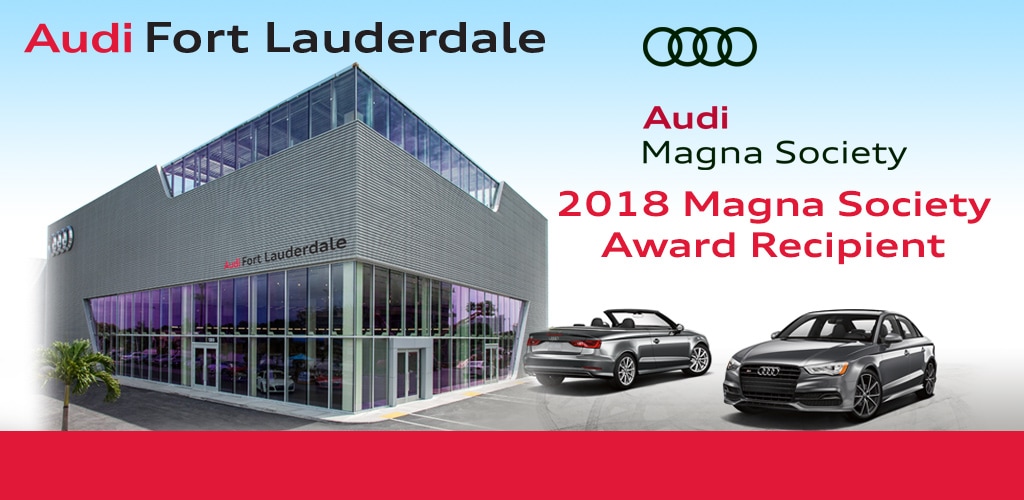 Audi honors 161 dealers with 2018 Magna Society Awards

Winners among the most outstanding Audi retailers in the U.S.
Audi customer service and business performance benchmarks required to earn Magna Society status
Sixteen dealerships named 2018 Audi Magna Society Elite winners
HERNDON, Va., February 28, 2019 - Audi honored 161 top-performing dealerships in the U.S. with the Magna Society Awards, a distinction for dealers who achieved excellent performance in 2018.
To earn Magna Society recognition, dealers must demonstrate an exceptional level of customer service as well as strong business performance. Among the recipients, 16 dealerships were distinguished as 2018 Audi Magna Society Elite winners, a special honor for superior achievement as the best of the best.
The 2018 Audi Magna Society Elite winners:
Audi Atlanta (GA)
Audi Beaverton (OR)
Audi Beverly Hills (CA)
Audi Burlingame (CA)
Audi Creve Coeur (MO)
Audi Devon (PA)
Audi Freehold (NJ)
Audi Greenville (SC)
Audi Lafayette (LA)
Audi Natick (MA)
Audi Norwell (MA)
Audi Omaha (NE)
Audi Rocklin (CA)
Audi Wesley Chapel (FL)
Continental Audi of Naperville (IL)
Fletcher Jones Audi (IL)
The Magna Society was created by Audi to identify and recognize dealerships that go above and beyond standard business objectives and sales targets. To qualify for Magna Society status, a dealership must show that they are engaged in sales and service programs and adhere to specific business processes. Their facility and staff should also properly represent the Audi brand.
"It's exciting to see more of our dealer partners earn a Magna Society award each year, demonstrating a commitment to delivering premium customer service." said Cian O'Brien, chief operating officer, Audi of America. "The growing strength of the Audi dealer network in the U.S. remains a key factor contributing to the brand's performance."
The Magna Society awards support the goals established by Audi and its dealer partners to provide customers with an exclusive brand experience. By the end of 2018, the number of U.S. dealer locations exclusively selling Audi models increased to 232 from 15 in 1999.
The 2018 Magna Society award winners:
Alabama
Audi Birmingham
Audi Huntsville
Alaska
Arizona
Audi Chandler
Audi North Scottsdale
Audi Peoria
Audi Tucson
California
Audi Beverly Hills
Audi Burlingame
Audi Concord
Audi Escondido
Audi Fremont
Audi Fresno
Audi Marin
Audi Monterey Peninsula
Audi Ontario
Audi Oxnard
Audi Pacific
Audi Palo Alto
Audi Rancho Mirage
Audi Rocklin
Audi South Coast
Audi Temecula
Audi Valencia
Elk Grove Audi
Niello Audi
Rusnak/Westlake Audi
Santa Monica Audi
Stevens Creek Audi
Walter's Audi
Colorado
Audi Denver
Audi Flatirons
Audi Glenwood Springs
Connecticut
Audi Danbury
Audi of Fairfield
Audi of Wallingford
Hoffman Audi
Hoffman Audi of New London
Valenti Audi
Delaware
Florida
Audi Fort Lauderdale
Audi Gainesville
Audi Lakeland
Audi Naples
Audi North Miami
Audi North Orlando
Audi Orange Park
Audi Pembroke Pines
Audi Pensacola
Audi Tampa
Audi Wesley Chapel
Audi West Palm Beach
Georgia
Audi Atlanta
Audi Marietta
Audi North Atlanta
Audi South Atlanta
Idaho
Illinois
Audi Hoffman Estates
Audi Westmont
Continental Audi of Naperville
Fletcher Jones Audi
The Audi Exchange
Indiana
Audi Fort Wayne
Audi Indianapolis
Iowa
Louisiana
Audi Baton Rouge
Audi Lafayette
Audi New Orleans
Maryland
Audi Annapolis
Audi Bethesda
Audi Frederick
Audi Owings Mills
Audi Silver Spring
Rockville Audi
Massachusetts
Audi Burlington
Audi Natick
Audi Norwell
Audi Peabody
Audi Westwood
Michigan
Minnesota
Audi Minneapolis
Audi St. Paul
Missouri
Audi Creve Coeur
Audi Springfield
Kansas City Audi
Nebraska
Nevada
Audi Henderson
Audi Las Vegas
Audi Reno Tahoe
New Jersey
Audi Bridgewater
Audi Freehold
Audi Meadowlands
Audi Princeton
Audi Toms River
Audi Turnersville
Cherry Hill Audi
DCH Millburn Audi
Flemington Audi
Jack Daniels Audi of Upper Saddle River
Jack Daniels Audi Paramus
Paul Miller Audi
New York
Audi Hawthorne
Audi Manhattan
Audi Massapequa
Audi of Huntington
Audi Rochester
Audi Southampton
Biener Audi
Classic Audi
Mohegan Lake Audi
North Carolina
Audi Cape Fear
Audi Greensboro
Audi Greenville
Audi Northlake
Audi Winston-Salem
North Dakota
Ohio
Audi Bedford
Audi Cuyahoga Falls
Audi Mentor
Oklahoma
Audi Oklahoma City
Audi Tulsa
Oregon
Audi Beaverton
Audi Bend
Audi Wilsonville
Pennsylvania
Audi Devon
Audi Lancaster
Audi Warrington
Audi Washington
Audi Wynnewood
Puerto Rico
Rhode Island
South Carolina
Audi Columbia
Audi Greenville
Audi Hilton Head
Tennessee
Audi Knoxville
Audi Nashville
Texas
Audi Dallas
Audi Dominion
Audi Fort Worth
Audi Grapevine
Audi McKinney
Audi North Houston
Audi North Park
Audi South Austin
Audi Sugar Land
Audi West Houston
Utah
Vermont
Virginia
Audi Chantilly
Audi Hampton
Audi Richmond
Audi Tysons Corner
Flow Audi
Washington
Audi Bellevue
Audi Seattle
Audi Spokane
Audi Tri-Cities
Wisconsin
Audi Milwaukee
Audi North Shore
Audi Wausau
Zimbrick Audi